PG-5200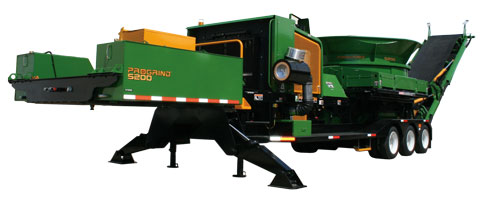 PG-5200 is available trailer or track mounted.
Transport Length

44' [13.41m]

Transport Height

13'-6" [4.10 m]

Transport Width

11'-11" [3.63 m]

Loading Height

10'-9" [3.28 m]

Tongue Weight

20,000 lbs. [9,072 kg]

Axle Weight

54,000 lbs. [24,494 kg]

Gross Weight

74,000 lbs [33,566 kg]

Tongue Weight W/ Loader

26,500 lbs. [1,134 kg]

Axle Weight W/ Loader

53,500 lbs. [24,267 kg]

Gross Weight W/ Loader

80,000 lbs. [36,287 kg]
Horsepower

875-1200HP [652-895kw]

Air Cleaners

Donaldson Dry Type

Fuel Capacity

450 gal. [1,704 L]

Fluid Drive

Hydraulic Wet Clutch

Drive Shaft

Spicer 1910

Final Drive

1:1, 2100 RPM
Opening

27" x 63" [686 x 1600 mm]

Length

60" [1.5 m]

Diameter

16 7/8" [429 mm] O.D. with 8 1/4" [210 mm] Diameter Center

Shaft

7" [178 mm] Diameter Hardenend Alloy Steel

Mill Plates

2" [51 mm] Thick, Machined to 1 15/16" [49 mm] in Hammer Swing Area

Hammers

(32) 36 lb. [16.3 kg] Fixed w/2-Bolt Replaceable Tips Heat treated and Hard Surfaced

Hammer Swing Diameter

26 3/4" [680 mm]

Hammer Rods

(12) 2 1/4" [57 mm] Diameter Alloy Steel

Bearings

4 7/16" [113 mm] Double Row Sperical w/ Heat Monitoring System and Custom Ductile Cast Iron Housing

Screen Size

3,100 sq. in. [2.0 sq. m]
Inside Width

10'-0" [3 m]

Flare Width

13' [3.96 m]

Depth

56" [1.4 m]

Walls

7/16" [11.1 mm] Steel Channel w/ Eight (8) 3/4" [19 mm] Stiffeners Welded Vertically to Support Tub and Flares

Fin Agitators

Six (6) 3/4" x 5" [19 mm x 127 mm]

Speed

Variable, Up to 9 RPM Forward and Reverse; Auto-Reverse if Jammed

Drive

Tub Rotates by two (2) Hydraulic Piston Motors, Each Directly Driving a 140 DC Chain
Augers

Three (3) 12" [305 mm] Hydraulicly Driven and Reversible

Stacking Conveyor

60" [152 mm] x 26' [7.9 m] Long x 15' [4.6 m] Stacking Height

Magnetic Pulley

12" x 62" [305 x 1575mm] Magnetic Pulley w/ Nail Chute
Controls / Gauges

Dust and Water Resistamt Shock-Mounted Control Box w/ Sauer Plus 1 System and Smart Display Panel to Include All Operating and Diagnostic Data.
Reach

25'-1" [7.64 m]

Lift Capacity

9650 lbs. [4377 kg] @ 10' [3.05 m] 6650 lbs. [3016 kg] @ 15' [4.57 m] 5100 lbs. [2313 kg] @ 20' [6.10 m]

Cab Controls

Electric Operated Joystick Controls; Engine Speed; Clutch, Tub, Conveyor, Outrigger and Cab Height Controls.

Cab Gauges

All included in Control Panel Display

Cab Features

1/2" [13 mm] Lexan Windshield, Wiper, Washer, Defroster, Dome Light, Fan, Horn, Insulation, Heater, Air Conditioner, Raises for Loading

Grapples

1/3 Cord Bypass or Claw. Continuous Rotation
Screens

Various Standard and Custom Sizes Available.

Other

Air Compressor, Radio Remote Control, Auto-Reversing Fan.
Capabilities
ProGrind Tub Grinders offer industry-leading, user-friendly controls, clutch protection and a variety of hammer options for grinding versatility. The tub on each model tilts up to 90 degrees for easy access to the hammermill, screens and lower auger area. Precision Husky offers six rugged models, each built with ease of operation, cost and – always – your productivity in mind.
PG5200
Our bold new 5200, available in trailer or track mount, contains one of the most aggressive hammermills in the industry. It can cut through mountains of green waste at production rates of over 100 tons-per-hour! The special double-bolt hammer tips provide more durability and grinding ease, assuring high production rates, less wear on the hammermill and easy maintenance. It's been called the most powerful, easy to use tub grinder in the industry.
The 5200 is operated by a dust and water-resistant, shock-mounted control box with a Sauer Plus 1 system, CAN+ radio remote controls and a smart display panel. The enclosed, wet hydraulic clutch is engaged from the control panel with fault indicators using a push button microprocessor.
Many of our customers choose the knuckle boom loader option, complete with air-conditioned cab (standard) and state-of-the-art joystick.