High Volume Chip Screen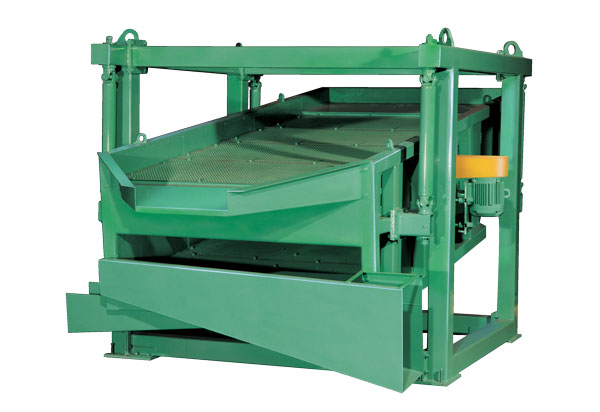 Capabilities
Precision HV Series Screens have heavy-duty tubular steel support frames. A TEFC motor which rotates the screening surface up to 300 RPM, supported by U-joints at each corner.
Frame: Support frame assembly is made from square tubing. Cross members bolted to each corner offer maximum stability. Foot pads have adjustment screws to ensure that Screen is level. Frame may be disassembled for shipping.
Screen Box: All screens are complete with both decks, punch plate and drive enclosure. (Discharges and punch plate sizes to customer specifications.)
Drive: The HV series uses a self-contained counterweight drive unit eliminating the eccentric shaft and three bearings of the typical rotary screen.
Bearing: This is a heavy-duty double-taper roller unit encased in a solid steel housing. It utilizes spring-loaded radial lip seals and comes prepacked with grease.
Also available in 8' x 8' [2.44 x 2.44m] and 10' x 10' [3.04 x 3.04m]. Please consult factory for more information
Options
UHMW Lining
Stainless Lining</p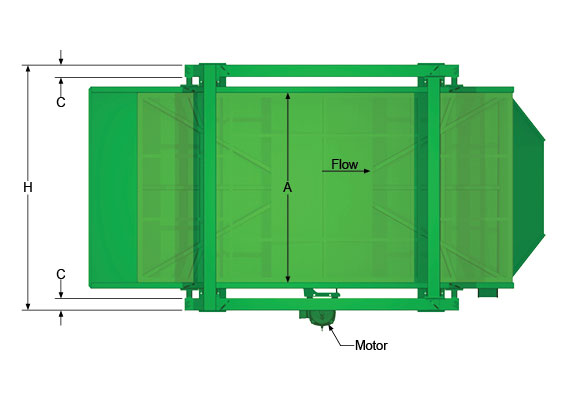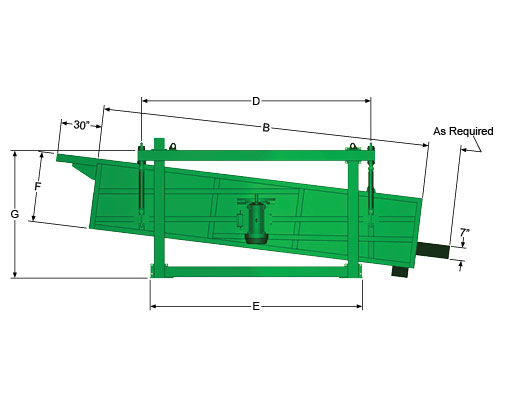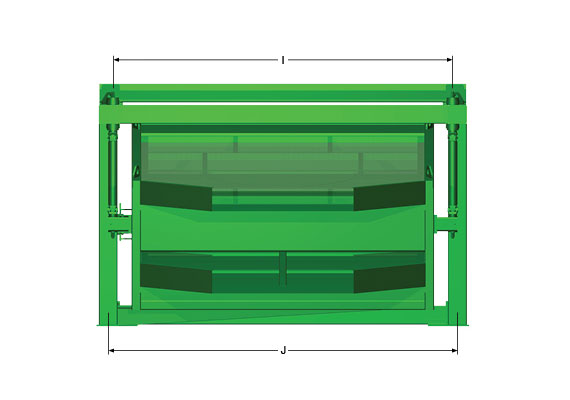 A X B

5' x 10' [1.5 x 3.04m]

C

6" [152mm]

D

7' [2.1m]

E

5'-7" [1.7m]

F

3'-8" [1.1m]

G

7'-8 1/2" [2.3m]

H

7'-8" [2.3m]

I

7' [2.1m]

J

7'-2" [2.2m]

WEIGHT

8,780 [3982kg]

HP

5HP [3.72kw]
A X B

6' x 12' [1.8 x 3.6m]

C

6" [152mm]

D

9' [2.7m]

E

7'-7" [2.3m]

F

3'-8" [1.1m]

G

7'-8 1/2" [2.3m]

H

8'-8" [2.6m]

I

8' [2.4m]

J

8'-2" [2.5m]

WEIGHT

11,000 [4989kg]

HP

7.5HP [5.59kw]
A X B

7' x 14' [2.1 x 4.3m]

C

6" [152mm]

D

10' [3.05m]

E

8'-7" [2.6m]

F

3'-8" [1.1m]

G

7'-8 1/2" [2.3m]

H

9'-8" [2.9m]

I

9' [2.7m]

J

9'-2" [2.8m]

WEIGHT

12,500 [5669kg]

HP

7.5HP [5.59kw]
A X B

8' x 16' [2.4 x 4.9m]

C

6" [152mm]

D

12' [3.6m]

E

10'-7" [3.2m]

F

3'-8" [1.1m]

G

7'-8 1/2" [2.3m]

H

10'-8" [3.3m]

I

10' [3.05m]

J

10'-2" [3.1m]

WEIGHT

16,700 [7574kg]

HP

10HP [7.45kw]
A X B

10' x 20' [3.04 x 6.1m]

C

8" [203mm]

D

14' [4.3m]

E

12'-9" [3.9m]

F

4'-4" [1.3m]

G

7'-9 3/4" [2.4m]

H

13'-0" [3.9m]

I

12" [3.65m]

J

12'-4" [4.1m]

WEIGHT

19,150 [8686kg]

HP

15HP [11.48kw]