Horizontal Grinder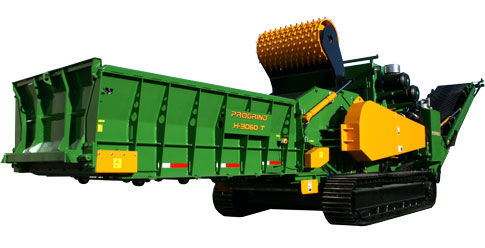 Transport Length

31' - 4" [9.55m]

Transport Height

13' - 6" [4.11m]

Weight

44,000 lbs [19,958kg]

Axle Weight

33,000 lbs [14,968kg]

Tongue Weight

11,000 lbs [4,989kg]

Width

8' - 6" [2.59m]

Infeed - Width (flare)

60" [1.52m]

Infeed - Width (belt)

45" [1.14m]

Infeed - Open Bed Length

18' - 10" [5.74m] to Hammermill

Infeed - Closed Bed Length

12' - 9" [3.88m] to Feed Wheel

Infeed - Loading Height

93" [2.36m]

Infeed - Belt

3/8" [9.5mm] cat style chain

Infeed - Belt Speed

0 to 50 Feet per Minute
[15.2 Meters per Minute]

Belly Conveyor

44" (1.1m) wide 350pvc belt with a hydraulically driven head pulley

Stacking Conveyor

48" [1.22m] wide x 25'-6" [7.77m] long with a 10" x 50" [254mm x 1.27m] Magnetic head pulley

Reservoirs - Hydraulic Tank

70 gallon [256 L] capacity

Reservoirs - Fuel Tank

130 gallon [492.1 L] capacity

Hammermill

45" x 30" [1.14m x 762mm]

Hammermill Cutting Diameter

30" [762mm] diameter

Hammermill Mill Speed

800 RPM

Hammermill Mill Hammers

(30) two-bolt notched fixed hammers

Hammermill Mill Shaft

7" [177.8mm] hardened alloy steel

Hammermill Hammer Rods

(6) 1-3/4" [44.5mm] alloy steel

Hammermill Support Bearings

4-7/16" [112.7mm] double row spherical

Diesel Engine

520-600HP [387-447kw]

Radio Remote

Standard
Transport Length

33' [10.06m]

Transport Height

13'1" [3.99m]

Weight

57,000 lbs [25,855kg]

Axle Weight

41,000 lbs [18,636kg]

Tongue Weight

14,500 lbs [6,577kg]

Width

9' - 10" [2.99m]

Infeed - Width (flare)

75" [1.9m]

Infeed - Width (belt)

60" [1.52m]

Infeed - Open Bed Length

20' - 10" [6.35m] to Hammermill

Infeed - Closed Bed Length

14' - 9" [4.50m] to Feed Wheel

Infeed - Loading Height

94" [2.4m]

Infeed - Belt

3/8" [9.5mm] cat style chain

Infeed - Belt Speed

0 to 70 Feet per Minute [18.3 Meters per Minute]

Belly Conveyor

59" (1.5m) wide 350pvc belt with a hydraulically driven head pulley

Stacking Conveyor

48" [1.22m] wide x 25'-6" [7.77m] long with a 12" x 50" [305mm x 1.27m] with a 10" x 50" [254mm x 1.27m] Magnetic head pulley

Reservoirs - Hydraulic Tank

70 gallon [256 L] capacity

Reservoirs - Fuel Tank

200 gallon [757.1 L] capacity

Hammermill

60" x 30" [1.52m x 762mm]

Hammermill Cutting Diameter

30" [762mm] diameter

Hammermill Mill Speed

800 RPM

Hammermill Mill Hammers

(40) two-bolt notched fixed hammers

Hammermill Mill Shaft

7" [177.8mm] hardened alloy steel

Hammermill Hammer Rods

(6) 1-3/4" [44.5mm] alloy steel

Hammermill Support Bearings

4-7/16" [112.7mm] double row spherical

Diesel Engine

600-700HP [447-522kw]

Radio Remote

Standard
Transport Length

40' [12.85m]

Transport Height

13' - 1" [3.99m]

Weight

73,000 lbs [33,182 kg]

Axle Weight

49,250 lbs [22,386 kg]

Tongue Weight

23,750 lbs. [10,795 kg]

Width

9' - 10" [2.99m]

Infeed - Width (flare)

75" [1.9m]

Infeed - Width (belt)

60" [1.523m]

Infeed - Open Bed Length

20' [6.1m] to Hammermill

Infeed - Closed Bed Length

14' [4.3m] to Feed Wheel

Infeed - Loading Height

94" [2.4m]

Infeed - Belt

3/8" [9.5mm] cat style chain

Infeed - Belt Speed

0 to 70 Feet per Minute [18.3 Meters per Minute]

Belly Conveyor

59" [1.5m] wide 350pvc belt with a hydraulically driven head pulley

Stacking Conveyor

60" [1.52m] wide x 25'-6" [7.77m] long with a 12" x 60" [305mm x 1.52m] Magnetic head pulley

Reservoirs - Hydraulic Tank

100 gallon [378.5 L] capacity

Reservoirs - Fuel Tank

300 gallon [1,136 L] capacity

Hammermill

60" x 40" [1.52m X 1.02m]

Hammermill Cutting Diameter

40" [1.02m] diameter

Hammermill Mill Speed

675 RPM

Hammermill Mill Hammers

(40) two-bolt notched fixed hammers

Hammermill Mill Shaft

7-1/2" [190.5mm] hardened alloy steel

Hammermill Hammer Rods

(10) 1-3/4" [44.5mm] alloy steel

Hammermill Support Bearings

5-7/16" [138.1mm] double row spherical

Diesel Engine

875-1200HP [652-895kw]

Radio Remote

Standard
Capabilities
Precision Husky's fuel-efficient, low maintenance and low noise grinders are busy all over the world manufacturing mulch, compost and boiler fuel and clearing jobsites. Are you looking for high-speed productivity? You've come to the right place.
ProGrind Horizontal Grinders
For working with long limbs, our high-speed ProGrind horizontal grinder is the ticket. Each unit is built with a down cut design, which allows you to switch out the hammermill for a two or four knife chipper drum. No need to buy a chipper when your grinder can do the job. The dual cutting surfaces at various depths eliminate those frustrating jams. Each model is remotely controlled and comes with a rugged diesel engine that offers you from 520HP up to 1050HP and each is equipped with a steel infeed belt. All models can be track or trailer mounted.
H-3045
This jobsite workhorse offers a 30-inch cutting diameter and a 45-inch infeed width. All models are designed with a large diameter feed wheel and dual opening doors for easy access to the screen and hammermill area.
H-3060
Our popular mid-sized grinder has a 30-inch cutting diameter and a 60-inch infeed width. Like all of our horizontal grinders, the 3060 is equipped with a self-adjusting hydraulic clutch.
H-4060
The largest model in our line-up gives you a roomy 40-inch cutting diameter and a wide 60-inch infeed width. Raised feed wheel locks in place with hydraulically operated safety pins for ease of maintenance.