PG-1500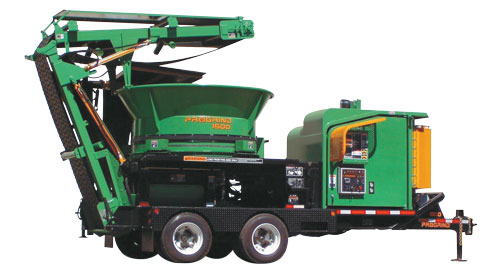 Transport Length

26'-6" [8.01m]

Transport Height

12'-10" [3.9m]

Loading Height

9' [2.7m]

Gross Weight

27,000 lbs. [12,273kg]

Axle Weight

25,000 lbs. [11,364kg]

Tongue Weight

2,000 lbs. [909kg]

Width

8'-5" [2.6m]
Augers

Dual 12" [30.48cm] Hydraulically driven.

Stacking Conveyor

20'-0" [6.1m] Long x 30" [76.2cm] Wide

Stacking Height

12'-10" [3.9m]

Trailer / Track System

Dual 15,000 lbs. [6,800kg] axles with dual 235- 75R17.5 radial load range "H" tires and electric brakes. Also available mounted on Caterpillar 312 (or equivalent) tracks.
Horsepower

420

Air Cleaner

Donaldson Dry Type

Fuel Capacity

80 gal. [302 l]

Noise Suppression

Sound reduced on is obtained by using an oversized fan and radiator. This allows the engine to operate at 1880 rpm with enclosed side panels greatly reducing total sound pressure energy.
Clutch

Twin Disc SP214

Fluid Coupling

Transfluid 19KRU

Drive Shaft

Spicer 1810

Final Drive

1:1, 1880 RPM
Opening

25 7/16" x 35" [64.2 cm x 89 cm]

Length

33 1/2" [84 cm]

Deflector

1/2" [12.7 mm] Thick Weldox 100 Thrown Object Deflector

Diameter

16 7/8" [43 cm] OD with 9" [23 cm] Diameter Cent

Shaft

5" [12.7 cm] Hardened Alloy Steel

Bearings

3 7/16" Double Row Spherical

Hammers

18 Two Bolt Fixed Hammers
Inside Width

6'-5" [2 m]

Flare Width

8'-5" [2.6 m]

Depth

42" [1066 mm]

Walls

3/8" [9.52 mm] Steel Plate with (4) 1/2" [12.7 mm] Stiffeners Welded Vertically to Support Tub and Flares

Agitators

(4) 3/8" x 3" [9.53 mm x 76.2 mm]

Speed

Variable, Up to 8 RPM Forward and Reverse

Drive

10,500 in. lbs [1,186 nm] Torque; Overload Protected Hydraulic Motor, Triple-50 Chain

Thrown Object Cover

Cover raises 48" for Operation. Adjustable to Allow for Different Materials and Methods of Loading
Description

Panel Shock Mounted with Tach, Hour Meter, Amp, Oil/Hydraulic Pressure, Thro􀆩 le, Key Switch and Kill Switch.Emergency Shutdown Switch for Low Oil Pressure andHigh Temperature. Hinged to Swing Out for BetterServiceability.
Description

Radio Remote Controls Tub Start/Stop, Tub Forward and Reverse, Conveyor and Auger Start/Stop, Thrown Object Cover Raise/Lower, Conveyor Raise/Lower, Emergency Stop, Remote Power On/Off .
Description
ProGrind Tub Grinders offer industry-leading, user-friendly controls, clutch protection and a variety of hammer options for grinding versatility. The tub on each model tilts up to 90 degrees for easy access to the hammermill, screens and lower auger area. Precision Husky offers six rugged models, each built with ease of operation, cost and – always – your productivity in mind.
PG 1500
Our compact and rugged 1500 is an industry standard. It comes loaded with a fixed hammer design and 420HP CAT diesel engine for long hours of performance on the jobsite. The 1500 also comes with a remote controlled tub cover, tub start/stop, tub forward/reverse, auger start/stop, conveyor raise/lower, emergency stop and remote power off.
The insulated engine cover and critical muffler reduce noise by as much as half over older equipment. Available in trailer or track mount.