PG-2000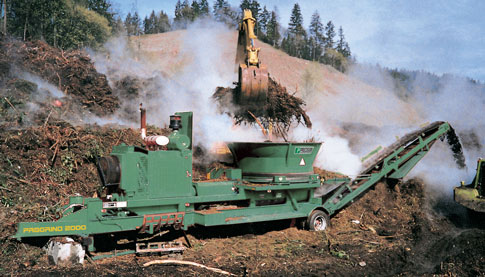 Transport Length

42' 0" [12.8 m] 5th wheel with 24' [7.32 m] conveyor

Transport Height

13' 4" [4.11 m]

Weight

25,300 lbs. [11,478 kg]

Axle Weight

20,000 lbs. [9,072 kg]

Tongue Weight

5,300 lbs. [2,404 kg] approximately
Horsepower

390 to 450

Air Cleaners

Donaldson Dry Type

Fuel Capacity

120 gal. [454 l]
Clutch

Twin Disc 14" [35.56 cm]

Fluid Coupler

Transfluid

Drive Shaft

Spicer 1810

Final Drive

1:1, 2100 RPM
Opening

25 7/16" x 45 5/8" [64.6 cm x 116 cm]

Length

44 5/16" [112.55 cm]

Deflector

1/2" [12.7 mm] Thick T-1 Steel Thrown Object Deflector

Diameter

16 7/8" [42.86 cm] OD with 9" [22.86 cm] Diameter Center

Shaft

5" [12.7 cm] Diameter Hardened Alloy Steel

Mill Plates

2" [5 cm] Thick, Machined to 1 7/8" [4.80 cm] in hammer swing area

Hammer Swing Dia.

26 1/4" [66.68 cm] diameter

Hammer Rods

(12) 1 1/2" [3.81 cm] case Hardened Alloy Steel

Bearings

3 7/16" [8.73 cm] Double Row Spherical

Screens

(2) 3/4" [1.91 cm] Thick, 2,405 sq. in. [1.56 sq. m]
Loading Height

9' 4" [2.9 m]

Width

10' 2" [3.11 m]

Inside Width

8'-0" [2.44 m]

Tub Flares

(2) Removable secti ons. Located 180 degrees apart to allow legal transport on public roadways.

Depth

4' 0" [1.22 m]

Wall Thickness

3/16" [4.75 mm] steel with (8) 3/16" [4.75 mm] stiffeners welded vertically to support tub and flares.

Fin Agitators

(8) 3/8" x 3" [9.53 mm x 76.2 mm]

Floor Thickness

3/8" [9.53 mm] plate.

Tub Guides

(8) guide rollers

Tub Drive

18,000 in. lbs. [2,034 nm] of Torque.Overload protected hydraulic motor, 4:1 Planetary Gearbox: Triple 60 Chain

Load Sensor

Electro-hydraulic. Maximize engine RPM and material feed rate to help prevent clogging. Automatic reversing of tub when engine overloads.

Tub Rotation

Varible speed forward and reverse up to 7 1/2 RPM by means of a flow control located in control panel.
Discharge Augers

Dual 12" [30.48 cm] diameter augers are hydraulically driven

Stacking Conveyor

24' 0" [6.10 m] long. 30" [76.2 cm] wide: 14'-0" [4.27 m] stacking height.
Controls

Ignition, Engine Speed, Tub Controls, Auger/Conveyor Controls, Table Raise/Lower Gauges Engine Temp, Engine Oil Pressure, Voltmeter, Fuel Gauge, Tach/Hourmeter, Tub Pressure Gauge, Auger Pressure Gauge
Optional Equipment

Standard and Custom Sizes Available (48 qty.) 5 lb [2.27 kg] Flail Hammers. 3/4" [1.91 cm] thick at base and 1" [2.54 cm] at the tip, heat treated and hard surfaced.

Pintle Hitch

Pintle hitch assembly with 3" [7.62 cm] pintle eye Magnetic roller is installed on the stacking conveyor which separates metals from the ground material. Once the magnetic roller releases the metal, it slides down the discharge chute and is stacked away from the ground material.

Remote Control

To activate the tubs rotation, change the direction of the tub rotation, and stop the tub.

Air Compressors

Air compressor is mounted on the unit for the convenience of using air tools on site.
Description
ProGrind Tub Grinders offer industry-leading, user-friendly controls, clutch protection and a variety of hammer options for grinding versatility. The tub on each model tilts up to 90 degrees for easy access to the hammermill, screens and lower auger area. Precision Husky offers six rugged models, each built with ease of operation, cost and – always – your productivity in mind.
PG2000
Built with ease of use and low maintenance in mind, the 2000 has made a name for itself in the woods. Its features include a hydraulic coupler and self-adjusting clutch and a tilt tub with no-bolt screens. The shock-resistant hammermill is equipped with 12lb. replaceable tip hammers.
Whether its green waste, pallets or bark mulch, the ProGrind 2000 delivers the power you need for effective wood waste management.