XL-175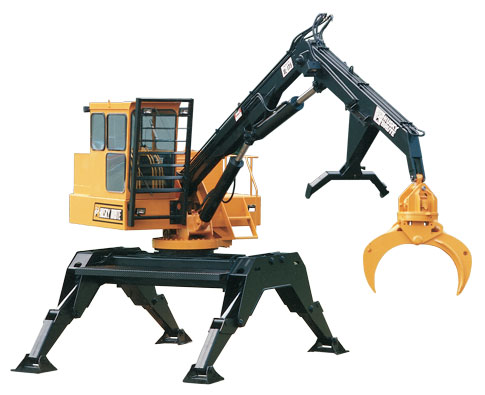 Reach (standard Knuckle)

25' [7.62m]

Pivot Pin

3"[76mm] Diameter

Additional

Boom sections are made from high tensile rectangular tubing reinforced and plug welded at all cri cal stress areas. Pivot pins are made from AISI 1045 material.
Spread

14'[4.27m]

Pad Size

21"[533mm] x 23"[584mm]

Additional

Four stabilizers are of the fold-down type. Each stabilizer is individually controlled from the cab. Safety load lock valves are standard. Sub-frame and stabilizers are uni zed.
Cylinders Main Boom

(1) 7"[178mm] Bore x 43"[1092mm] Stroke x 4"[102mm] Rod

Cylinders Jib Boom

(1) 7"[178mm] Bore x 34"[864mm] Stroke x 4"[102mm] Rod

Cylinders Stabilizers

(4) 6"[151mm] Bore x 24"[610mm] Stroke x 3"[76mm] Rod

Filtration Description

All cylinder barrels are heavy wall tubing. Pistons and glands are cast iron and feature replaceable wear rings. Cylinder rods are heavy chrome plated. Cylinder pins are up to 3" diameter heat treated material.

Pumps Main

Three (3) sec on Vane pump 44GPM [167 LPM]

Pumps Jib

44 GPM [167 LPM]

Pumps Swing

31 GPM [117 LPM]

Reservoir

120 Gallon [454 L]

Control Valves Description

Valves are Gresen stack type and feature integral main reliefs, port reliefs and anti-cavitation checks.

Operating Pressures Main

2200 PSI [152 Bars]

Operating Pressures Jib

2400 PSI [165 Bars]

Operating Pressures Swing

2400 PSI [165 Bars]
Filtration Description

Cummins and John Deere options
Filtration Description

Planetary gearbox is driven by a Geroller motor.

Swing System Rotation

Con nuous with 9-port swivel

Swing System Turntable Bearing

42" [1067mm] O.D.
Loader (including Hydraulic Oil)

18,000 lbs. [8165kg]

Grapple (42" Log)

1,200 lbs. [544kg]

Weight Total

19,200 lbs. [8709kg]
Filtration Description

Standard cab features include: forward sloping front windshield, sound-deadening insula on and two windshield wipers.

Floor Dimensions

38" [965mm] x 60" [1524mm]
Filtration Description

Recommend heavy-duty live tandem axle vehicle of not less than 38,000 GVW.
The HUSKY XL-175 is available for truck mount, shown, trailer mounted, and sta onary with electric power.
Engine

Cummins and John Deere options

Booms

Stationary Heel Boom

Options Other

Log and pulpwood grapples, floodlights, hydraulic joy stick controls, slasher packages
Capabilities
The Husky XL series is engineered to be highly responsive with a smooth powerful swing with perfect balance. They are the heaviest built in the industry and outweigh the competitor's model for model. Routine service is fast with an easy access design, like centralized hydraulic pressure checks, turntable bearing greasing from the operator's cab. Husky boasts the largest steel booms available with super heavy-duty sub frames. Husky owners know they are built to last.
The Husky XL-175 weighs in at 18,000 lbs; it has a lift capacity of nearly 9 tons at ten feet and over 3 tons at full extension. Even more improvements have been made to the XL series including new cylinder design, improved operator's cab and hydraulics for cooler operation.
Options:
All Husky models are available for trucks, stationary electric, rubber tire self-propelled, and trailer-mounts. Husky provides the hydraulic power and control valves, oil lines and couplings for any major manufacturer's delimbers or slashers. We will custom mount on your choice of trailer
Stationary heel boom, log and pulpwood grapples, floodlights, hydraulic joystick controls and slasher packages are also available.