Flail Debarker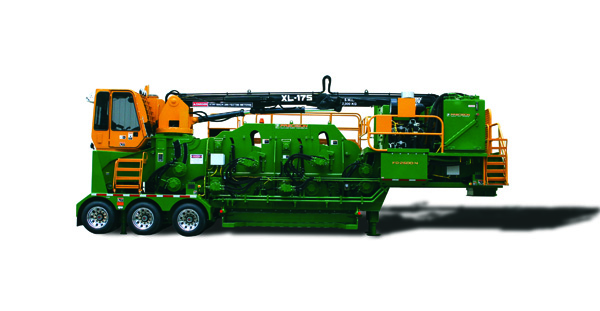 Weight

52,000 lbs [23,636 kg] Approximate

Length (on Highway)

36' 4" [11 m]

Width

8' 10" [2.7 m]

Maximum Height (on Highway)

13 5 1/2" [4.1 m]

Height (operating)

15' 4" [4.7 m]

5th Wheel Above Ground Level

48" [1.22 m]

Chain Sections

Short link 5/8" [16mm] x 8 links

Ground Clearance

8" [203mm]

Tire Size

Eight (8) 255/70R22.5 Load rating H

Log Size

3" to 23" [76mm to 584mm]

Debarking Chamber

53" w x 23" h [1346mm x 584mm]

Hydraulic Oil Tank

230 gallons [ 870 L]

Fuel Capacity

170 gallons [644 L]

Engine

400 - 430 HP [298 - 320 kw]

Upper Flail Drums

One (1) Pivoted w/ Gravity Counterbalance

Lower Flail Drums

One (1) Fixed

Upper Feed Rolls

One (1) Floating

Lower Feed Rolls

One (1) Fixed

Outfeed System

Folding Chain Conveyor
Weight

90,000 lbs [40,820kg] Approximate

Length (on Highway)

39' 2" [11.94m]

Width

10' 6" [3.2m]

Maximum Height (on Highway)

13' 5 1/2" [4.1m]

Height (operating)

16' 7" [5.05m]

5th Wheel Above Ground Level

48" [1.22 m]

Chain Sections

Short link 5/8" [16mm] x 8 links

Ground Clearance

10" [203mm]

Tire Size

Six (6) 445/50R22.5 Load rating J

Log Size

3" to 26" [76mm – 660mm] diamete

Debarking Chamber

53" w x 26" h [1346mm x 660mm]

Hydraulic Oil Tank

300 gallons [1,136 L]

Fuel Capacity

300 gallons [1,136 L]

Engine

580 - 600 HP [432 - 447 KW]

Upper Flail Drums

Two (2) Bi Directional, Variable Speed Hydrostatic Drive

Lower Flail Drums

Two (2) Bi Directional, Variable Speed Hydrostatic Drive

Upper Feed Rolls

Two (2) Floating

Lower Feed Rolls

Three (3) Fixed

Outfeed System

Dual Hydraulic Cylinder Pusher
Capabilities
The Precision FD-2300, 2 Flail capable of processing multiple logs from 3" to 23" [76mm to 584mm] and FD-2600-4 flail, capable of processing multiple logs from 3" to 26" [76mm to 660mm] increase productivity while reducing bark content to as low as 3/10 of 1% on average. The fully adjustable hydraulic system provides the operator limitless control of the feed rate,flail speeds and rotations. This flexibility offers many solutions to the customer's individual needs and maintains the highest efficiency rates possible.
The Precision line of Flail Delimber Debarkers are better engineered, built heavier, stronger and offer more logging production and less down time.
Both models include state of the art hydraulics that allow all the infeed rolls, flail drums and outfeed rolls to be infinitely variable. Bark and limbs are removed in the enclosed housing, protecting the system from damage. The FD-2300, 2 Flail discharges the bark and waste with a 22'-6' [6.86m] chain conveyor while the 2600-4 flail model removes the waste by an oversized hydraulic pusher, keeping the debarker chamber clean.